Animal Anatomy Teaching System
Meiwo animal anatomy teaching system is developed using Unity3D engine combined with Max and Maya 3D modeling software. The system model uses real animal data for 3D data reconstruction, relying on virtual reality, human-computer interaction, database and other technologies to simulate real anatomy teaching scenes , allowing users to learn animal anatomy knowledge more intuitively and systematically.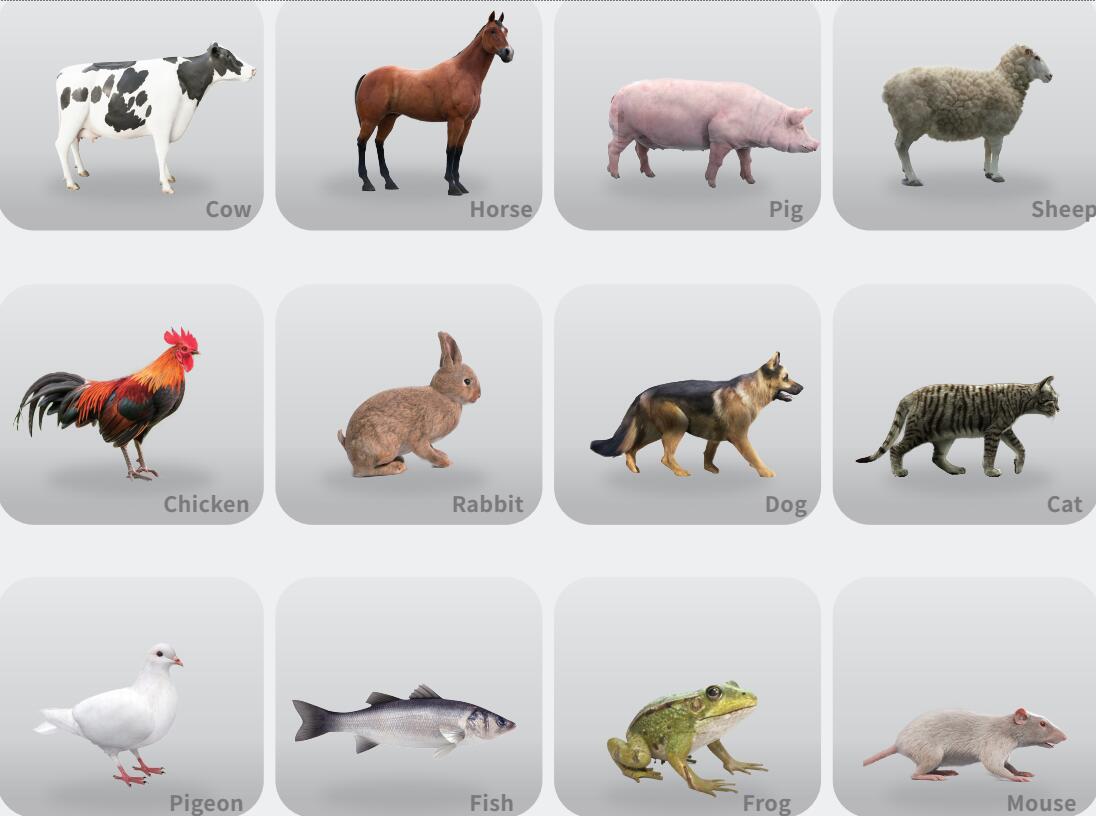 1 Combination and comparison of model and atlas data
The comparison teaching between anatomical model and theoretical atlas data can help students deepen learning depth and expand learning knowledge more effectively.
2 Flexible and varied question type
Including atlas, model, specimen, slices and other extension questions;
Contains single choice, multiple choice, and judgment, fill in the blanks, noun explanation, questions and answers. Support independent exercises, homework, online tests and other learning modes. The study progress of the examination questions can be checked (the study status of the examination questions can be clearly viewed; Answered, wrong, not answered). Synchronize the status of the desktop, web, and mobile terminals, making learning objectives clear and reducing unnecessary time and energy investment.
3 The trinity of simulation experiment training, learning, practice, and test functions is perfectly integrated.
The simulation experiment training content is divided into three modules: learning, practice and assessment. The teaching activities are carried out in a scientific learning way, from shallow to deep, step by step, so that students can better receive and understand knowledge.
Product Advantages
1 Complete physiological and anatomical data
Covering the complete physiological and anatomical structure data of various types of organisms such as poultry, livestock, pets, aquatic products, etc., each structure can be displayed independently, and is equipped with bilingual annotation information in Chinese and English, and cooperates with voice interpretation to maximize teaching.
2 Clearly labeled high-definition atlas data
According to the teaching requirements of animal anatomy, the system provides a large number of high-definition teaching atlas and detailed annotation information.
3 Extensive test question bank
The test questions are arranged according to the teaching content of the teaching materials. There are currently 8600+ test questions, covering various categories such as poultry, livestock, pets, and aquatic products. The number of test questions in the test bank is still increasing.
4 Targeted simulation experiments
The product provides targeted simulation training experiments, involving the relevant scope covered by knowledge, combining theoretical learning with practical ability, enhancing students' interest in learning and deepening the depth of knowledge understanding.