1.Digital Anatomy Laboratory (systematic anatomy, topographic anatomy)
Laboratory intelligence, digitization and specialization
According to the construction purpose of "intelligent, digital and professional", the "intelligent digital anatomy Laboratory" is composed of "specimen display and cloud interaction", various types of "anatomy laboratory", "anatomy training center" and "intelligent control system".
Big data analysis and multi-system sharing of cloud resources
Big data and cloud resources provide global empowerment for "teaching, learning, testing, testing, practice, evaluation, and management"; one-click capture of teaching progress, performance analysis, and big data knowledge points, and intelligent formulation of learning plans; high-definition maps, multidimensional data comparison of normal and pathological specimens.
Solve the traditional problems such as single teaching mode, insufficient teaching resources, and difficult implementation of training anatomy operations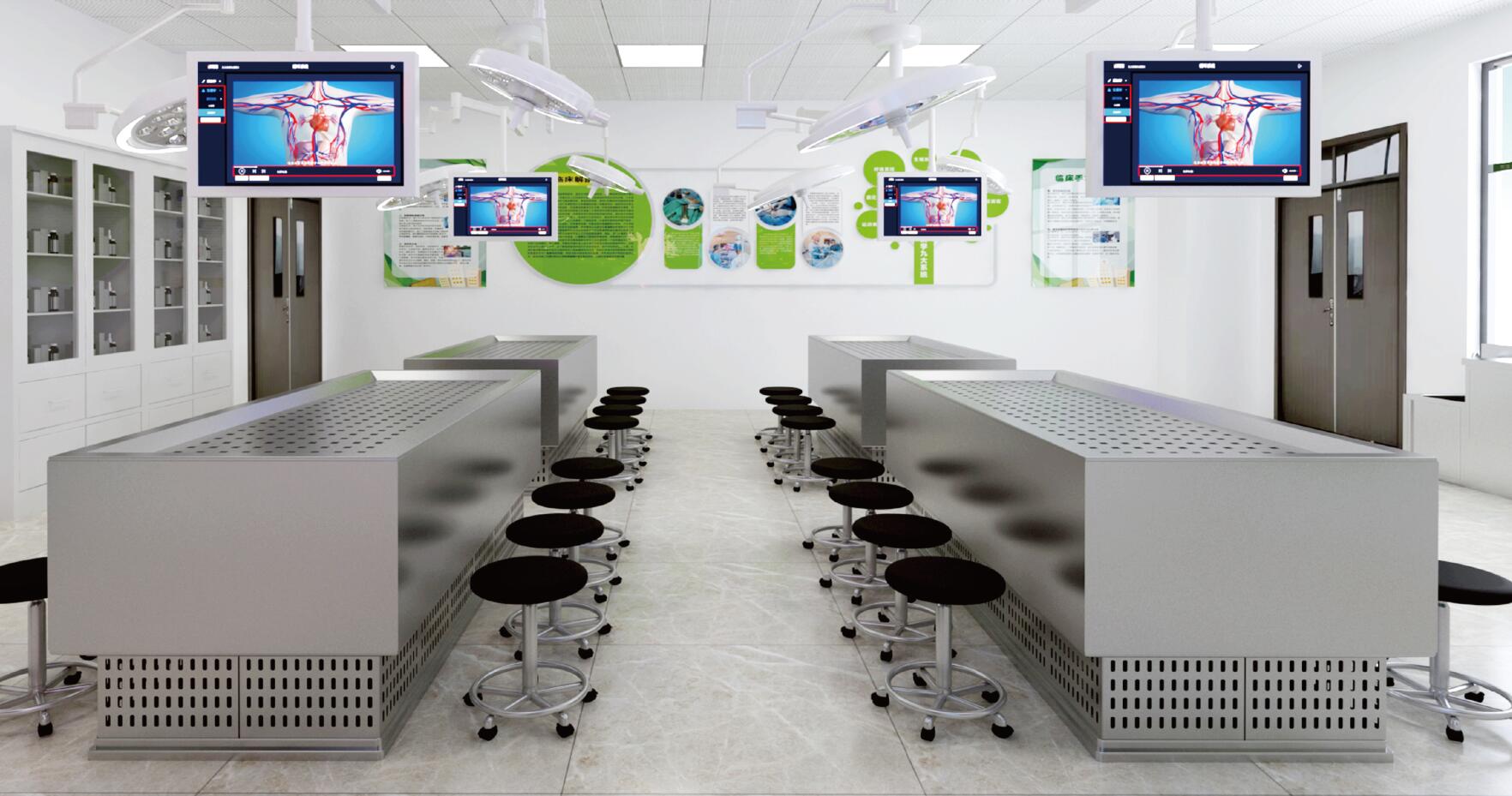 2.Morphology Laboratory
High-quality digital slicing resources are abundant, and the annotation data is accurate and rigorous.
Mutual verification of training experiments and theoretical simulations.
Microscopic interaction, real-time comparison.
The data under the microscope can be compared with resources such as slices and digital models in the resource library for macroscopic and microcosmic comparison learning, expanding clinical adaptability.

3.Sectional Anatomy Laboratory
High-definition tomography, leading in accuracy, bilingual annotation.
Clinical image assistance, normal and pathological data comparison, professional and comprehensive.
VR, AR, MR polymorphic display

4.Clinical Anatomy Laboratory
Autopsy and virtual anatomy are compared with each other, the combination of virtual and real, complementary advantages.
Combination of CT scan images with clinical anatomy.
High-definition and multi-angle operation recording, showing every detail; course live broadcast, review, all-round improvement of teaching dimension. Practical teaching by professors and teachers, high-definition multi-angle recording in the laboratory, students watching in class, learning live anatomy courses of clinicians, and reviewing the teaching videos outside of class, so that students can really get close to the application of clinical anatomy.

5.Mortuary
Build a new, modern, automated, environmentally friendly and healthy mortuary.
Say goodbye to primitive environments such as dirty, messy, bad, smelly, and stimulating, and build a spacious, bright, well-ventilated, environmentally friendly, convenient, and warm basic environment; ensure that anatomists are willing and safe to conduct anatomy and research in the morgue.
Create a one-stop platform for scheme design, project construction, cost control, project management and after-sales service.