Meiwo Human Anatomy Software Function
Digital Teaching Series
System anatomy
Topography anatomy
Sectional anatomy
Digital specimen bank
Test center
Bilingual micro-class
Independent study
Real cadaver anatomy
Anatomy atlas
VR, AR, MR polymorphic teaching
Human body assembly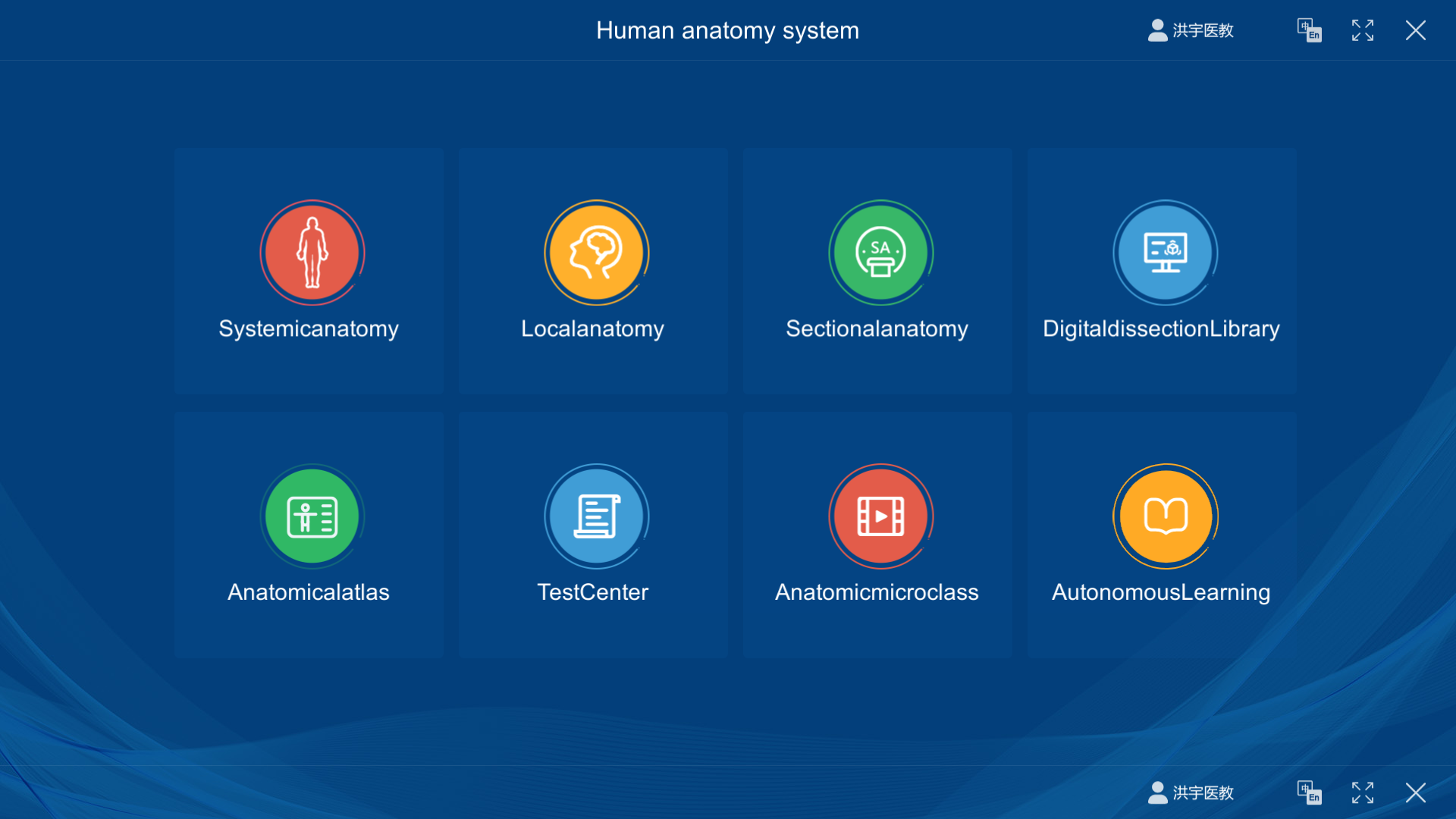 1 Integration of desktop, web and mobile terminals
The system includes three versions: desktop, web and mobile, with different emphasis. The multi-end integration solves the disadvantages of traditional teaching and learning limited by space, time and equipment to build a networked, digital, intelligent, personalized and lifelong teaching system, and build a comprehensive learning platform for everyone to learn, learn everywhere and learn from time to time.
2 Multi-role mode creates an integrated platform for teaching, learning, practice and testing
The whole system has three permission modes of teachers, students and vistors. Online teaching for teachers, online learning for students and visitors, and online assessment greatly facilitate the integrated management of users, resources, and assessment, and facilitate the formulation of personalized teaching plans and the rational distribution of learning resources for teachers in teaching, boosting the realization of comprehensive informatization of education and teaching, improving the overall level of modern education, and continuously improving the quality of personnel training.
3 Comprehensive and vivid contrast and correlation teaching
Synchronous comparison of normal data, abnormal data, and CT images, synchronous association of test question database, specimen database, 3D models, slices, e-books, and teaching micro-classes.
4 VR, AR, MR polymorphic teaching
Immersive operation of the VR version, bilingual annotations in Chinese and English, free disassembly and combination of the system and structure, random pick and place, all-round viewing without dead ends, distance adjustment, etc. The content of auxiliary teaching resources such as electronic specimens, teaching micro-courses and teaching courseware is diverse, and the interactive operation of practical training is rich.
5 Fun learning, human body assembly
Human body assembling game, covering cardiovascular system, digestive system, respiratory system, nervous system, immune system, urinary system, reproductive system (male and female), muscular system, skeletal system, secretion system, visual apparatus, whole skull or part of the human body puzzle helps students better learn and understand the composition and structure of various systems and organs of the human body. At the same time, it greatly improves the fun of students' learning.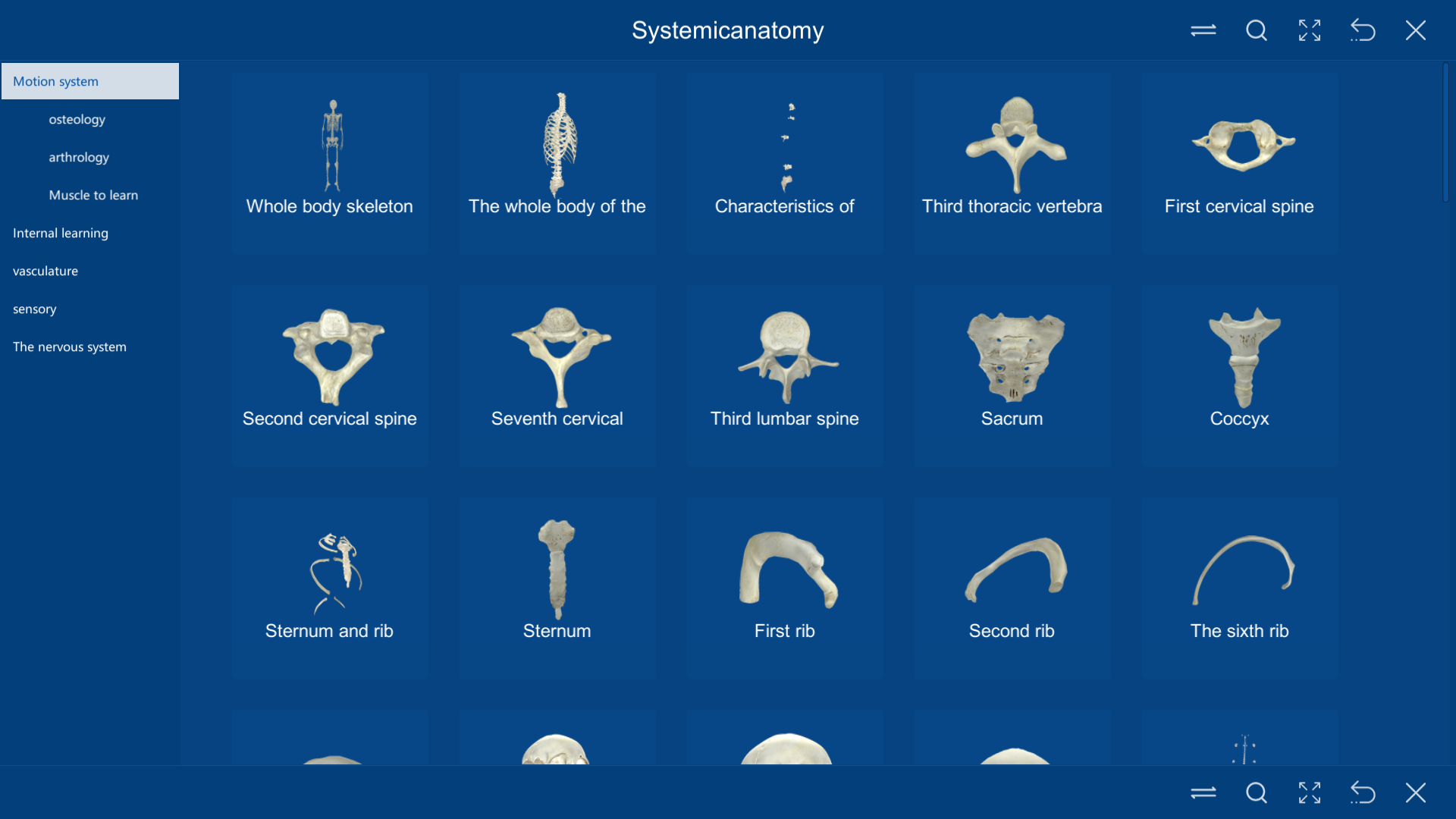 Meiwo Human Anatomy Software Advantages
1 Rigorous and scientific data of real cadaver specimens
Different from traditional hand-painted modeling, the 3D data of the system collects data from real cadaver specimens through 3D scanning equipment, so that the start and stop shape of each muscle and the texture of muscle filaments can be clearly displayed, and the structure and organization perfectly match the real human body, ensuring academic rigorous and scientific.
2 Rich and comprehensive data
Sectional anatomy: More than 3,700 pieces of male and female whole-body section data (labeled in both Chinese and English), including horizontal section, sagittal section, and coronal section, CT contrast teaching; 97 pathological sections.
Question center: more than 10,000 questions, covering multiple choice questions, short answer questions, judgment questions, fill in the blank questions, graph questions, model specimen three-dimensional structure questions, slice questions, case analysis questions, essay questions and other questions, to form four kinds of learning modules such as independent practice, simulation test, online examination, wrong question query.
Human anatomy: more than 8,000 anatomical structures, any one can be displayed or hidden, only the structure you want to see can be displayed, unlimited free splicing and combination, everything is controlled by the user, realize layer-by-layer dissection, and completely reproduce the whole process of human anatomy.
Human body assembly: more than 2,000 model structures, cardiovascular system, digestive system, respiratory system, nervous system, immune system, urinary system, reproductive system (male and female), muscular system, skeletal system, endocrine system, visual organs, and the whole skull or the partial human body jigsaw puzzle game experience will help students better learn and understand the composition and structure of various human system organs, and at the same time greatly improve the interest of students in learning.
Anatomy micro-lecture: nearly 230 class hours of Chinese-English bilingual micro-lecture and hand-painted drawing lectures. Human anatomy, physiology and other related content are explained in a simple way by drawing while explaining. Nearly 100 hours of real cadaver anatomy courses. While explaining, the anatomical content shows in detail the steps of the operation technique, the level of each part and the adjacency relationship of anatomical structures.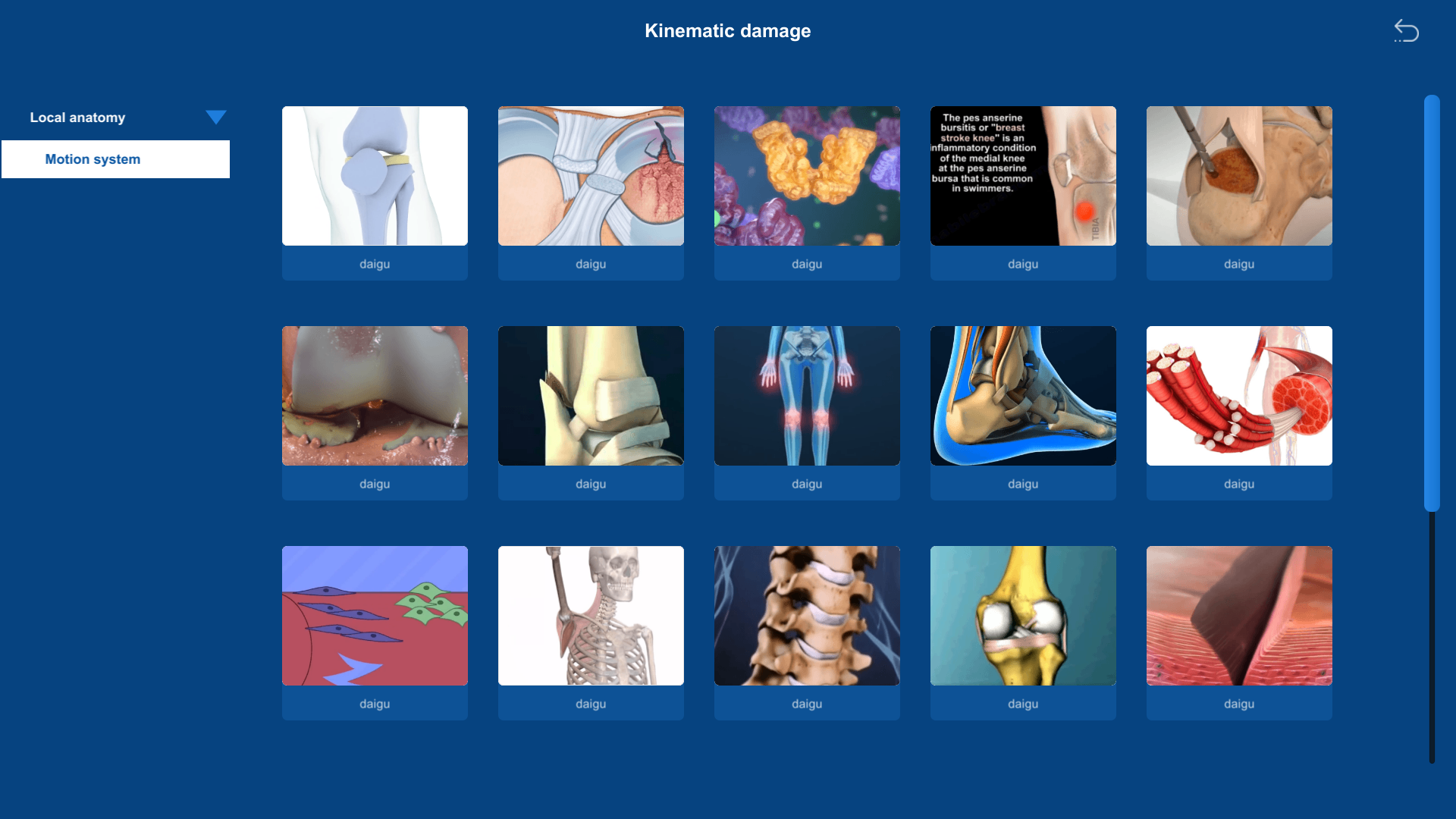 Self-learning: A total of more than 470 class hours, with systematic anatomy, regional anatomy course catalog for courseware and course arrangement. The courseware can be associated with the three-dimensional specimens, so that the virtual and real complement each other, and the combination of dynamic and static.
Physical Atlas: more than 980 pictures of human living physical specimens, marking nearly 15,000 human structures. Support quick positioning of label point query.
3 The desktop, web and mobile terminals are all in one, breaking space and time constraints
The products include three platforms: desktop, web, and mobile, with real-time synchronization of learning data and real-time push of assigned tasks, so that learning is no longer limited by time and space, and students can choose learning methods freely and flexibly anytime, anywhere.