MR Human Anatomy Software
1.The anatomical structure of real cadaver specimens can be freely split and combined
The system uses real corpse specimens for 3D data collection, and the details of each structure can be truly presented, and can realize the disassembly and combination of real corpse specimens (most of the existing disassembly and combination in the market are manual hand-painted modeling, and the rigor and accuracy are difficult to guarantee).
2. One-click association of all resources on the site, knowledge from point to surface, one-click capture
The system provides knowledge and resource network link functions. Specimens, atlases, slices, test questions and micro-lecture resources related to the same structure and the same knowledge point can be obtained with one click, which is convenient for students to compare, associative memory, and improve students' divergent thinking ability.
3. The content layout is closely related to the textbook chapters
The software of this system is based on the contents of the textbooks "Systematic Anatomy" and "Regional Anatomy" published by Renwei Publishing House for the 13th Five-Year Plan; the atlas of specimen production refers to the Second Military Medical University Press, "The Physical Atlas of Human System Anatomy" and "Human Body". Physical Atlas of Regional Anatomy"; developed in accordance with national virtual reality experiment standards, meeting the requirements of the teaching syllabus. Comprehensively correlate various resources such as 3D models, physical specimens, animations, videos, and courseware corresponding to the maps used, spread the knowledge from point to surface, and save unnecessary time and cost for students to search and collect learning resources; and hire the guidance of many well-known experts ensures the scientificity and rigor of the software.
4. Flexible and diverse types of test questions
Rich in various special test questions such as atlas, model specimens, slices, etc.
It includes multiple choice questions, short answer questions, judgment questions, blank filling questions, graph questions, three-dimensional structure questions of model specimens, slice questions, case analysis questions, essay questions and so on. Support independent exercises, homework, online tests and other learning modes.
The test questions in the test bank can be checked for learning progress (the learning status of the test questions can be clearly checked: completed, unfinished, and wrong questions). The status of the desktop, web, and mobile terminals is synchronized to make the learning purpose clear and reduce unnecessary time and energy.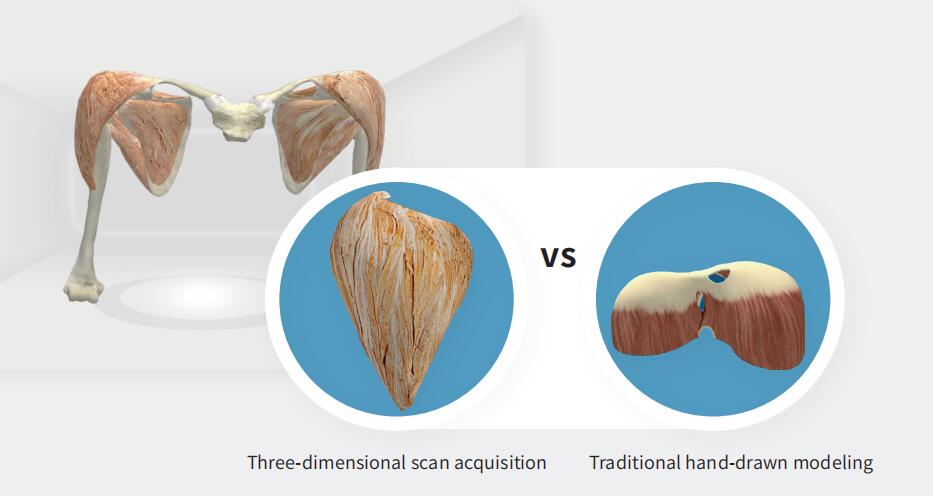 Function description
1. Naked-eye 3D technology
Naked-eye 3D technology, without the need to wear helmets, glasses and other third-party wearable devices, you can use touch devices to perform naked-eye out-screen operations on 3D models or specimens, realizing 3D theater-level visual out-screen functions.
The system supports two operation modes of stylus and mouse, supports 3D display effect, 3D naked-eye off-screen function and AR off-screen function.

2. Multi-role mode creates an integrated platform for teaching, learning, practice and testing
The whole system has three permission modes of teachers, students and vistors. Online teaching for teachers, online learning for students and visitors, and online assessment greatly facilitate the integrated management of users, resources, and assessment, and facilitate the formulation of personalized teaching plans and the rational distribution of learning resources for teachers in teaching, boosting the realization of comprehensive informatization of education and teaching, improving the overall level of modern education, and continuously improving the quality of personnel training.
3. Comprehensive and vivid contrast and correlation teaching
Synchronous comparison of normal data, abnormal data, and CT images, synchronous association of test question database, specimen database, 3D models, slices, e-books, and teaching micro-classes.
4. PC, MR, Naked-eye 3D, AR polymorphic teaching (picture)
Immersive operation, bilingual annotations in Chinese and English, free disassembly and combination of the system and structure, random pick and place, all-round viewing without dead ends, distance adjustment, etc. The content of auxiliary teaching resources such as electronic specimens, teaching micro-courses and teaching courseware is diverse, and the interactive operation of practical training is rich.

Product advantages
1. Rigorous and scientific data of real cadaver specimens
The system uses real cadaver specimens for 3D data collection, and the details of each structure can be truly presented, such as: the start and end shape of each muscle, muscle filament texture and three-dimensional depth of field can be clearly displayed, fully ensuring the authenticity and professionalism of the specimens.
2. Rich and comprehensive data
3D Enhanced Interactive Module
It contains more than 4,600 anatomical human structures, covering all major organs and systems of male and female, and also provides more than 15,000 independent practice questions with structural annotations. High-precision textures make the display effect more realistic. Real-time 3D rendering technology can truly restore the human body structure, realizing the perfect combination of traditional anatomy and virtual reality technology.
Animation principle module
Including nearly 60 three-dimensional principle animations in seven categories including head and neck, shoulder girdle, upper limbs, chest and abdomen, spine and back, pelvis and lower limbs, vividly displaying basic movement principles in 3D form.
Task Exam Module
The test task system is customized for the course. The system is divided into four modules: independent practice, mock test, online test, and error query; the test questions must include: multiple choice questions, question and answer questions, judgment questions, fill in the blank questions, atlas questions, model and specimen 3D structure questions, slice questions, case analysis questions, essay questions and other question types, no less than 8,000 questions, including real questions for nurses and doctors' qualification exams.
3. Structural annotation self-exercise and assessment
In the form of test questions, it allows users to identify the structure of the specimen, and provides correct reference answers for users to correct memory errors and assist students to learn quickly.